All it took was one dunk. All it was, was one dunk. Each slam dunk contest participant got to complete just one individual dunk in this year's slam dunk contest. Due to the new format of the Sprite Slam Dunk Contest, the East had already defeated the West after just one round of head-to-head competition. Terrence Ross defeated Damian Lillard, Paul George defeated Harrison Barnes, and John Wall defeated Ben McLemore.
John Wall—who was the only dunker to complete his dunk on the 1st attempt—brought out the Wizards' mascot, G-Man, who held the ball above his head as Wall jumped over him, pumped it in-between his legs in the air, and slammed it reverse into the net. He followed up his dunk with a celebration dance.
After all was said and done, the Washington Wizards' John Wall was named the Slam Dunk Champion via a fan vote.
The dunk that won John Wall the title: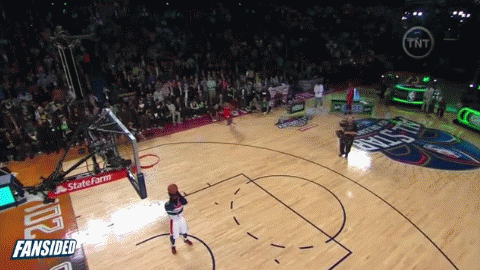 The defending champion, Terrence Ross did put up a fight, bringing out the big guns for his first and only dunk, in the form of Toronto Raptors' global ambassador, Drake. Ross had Drake hold the ball out at his side, as he proceeded to perform a between the legs windmill dunk. However it was on his 3rd attempt that the dunk was successful, which likely lost him some points with the fans.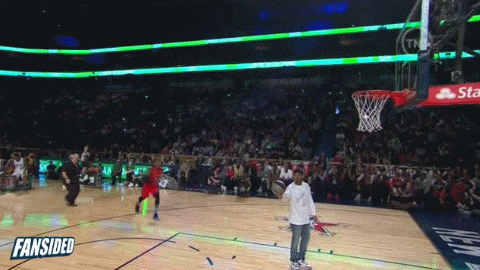 The dunk contest ended abruptly, as fans were dissatisfied with seeing each competitor only dunk once—not including the 90 second 'freestyle', which was also won by the East.
GIFs of the other 4 dunks can be seen below (courtesy of ZombieProphet):
Ben McLemore dunking over 'Shaq-Lemore'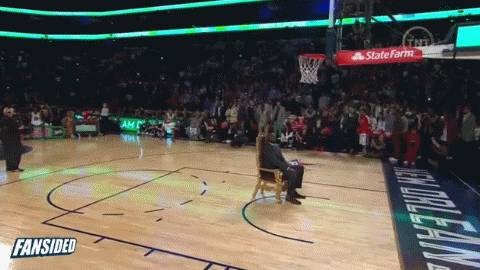 Paul George's reverse 360 between the legs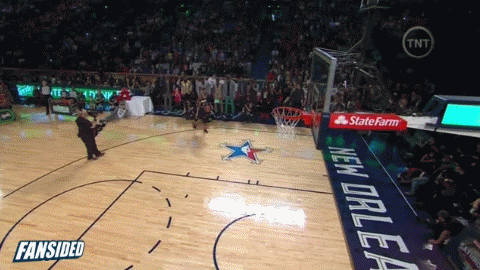 Harrison Barnes's single pump tomahawk jam
Damian Lillard's 180 windmill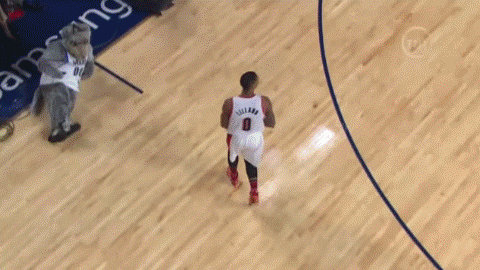 Highlights from the 90 second 'freestyle' opening round:
East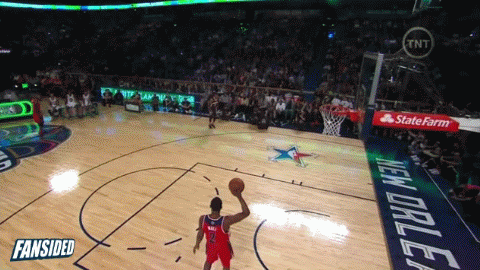 West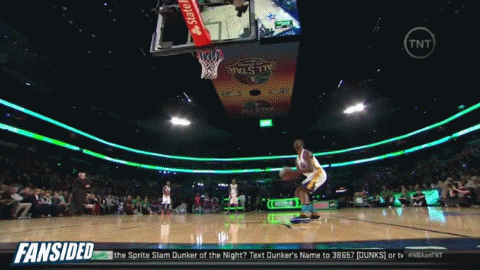 The complete results for the three other NBA All-Star Saturday events are as follows:
Sears Shooting Stars
Winner: Team Bosh
For the first time in the event's 11 year history, we saw a repeat champion in the Shooting Stars competition. Team Bosh (Chris Bosh, Dominique Wilkins, and Swin Cash) won the event for a 2nd year in a row, with a time of 31.4 seconds in the final round. Team Bosh completely blew away the competition in both rounds, scoring 35.6 in the first round to advance.
Western Conference
Team Name
Members
Team
First Round
Final Round
Team Curry
Stephen Curry
Golden State Warriors
1:05
–
Becky Hammon
San Antonio Silver Stars
Dell Curry
(retired)
Team Durant
Kevin Durant
Oklahoma City Thunder
1:00
0:43.6
Skylar Diggins
Tulsa Shock
Karl Malone
(retired)
Eastern Conference
Team Name
Members
Team
First Round
Final Round
Team Hardaway
Tim Hardaway Jr.
New York Knicks
1:25
–
Tim Hardaway
Chicago Sky
Elena Delle Donne
(retired)
Team Bosh
Chris Bosh
Miami Heat
0:35.6
0:31.4
Dominique Wilkins
Chicago Sky
Swin Cash
(retired)
Taco Bell Skills Challenge
Winner: Damian Lillard & Trey Burke
This event featured Toronto Raptors' Demar Derozan, who was paired up with 'The Greek Freak" Giannis Antetokounmpo, but were eliminated after the first round. The skills challenge competition was won by the narrowest of margins, as Trey Burke dunked the final basket just 0.1 seconds quicker than their Eastern Conference opponents, Carter-Williams & Oladipo.
Foot Locker Three Point Contest:
Winner: Marco Belinelli
The three point contest was won by dark horse, Marco Belinelli, it took a tie breaker round after he and finalist Bradley Beal both scored 19 in the final round. Belinelli walked away the champion, scoring 24 in the tie breaker round.
Western Conference
Pos.
Player
Team
First round
Final round
Tiebreaker
F
Kevin Love
Minnesota Timberwolves
16
–
–
G
Damian Lillard
Portland Trail Blazers
18
–
–
G
Marco Belinelli
San Antonio Spurs
19
19
24
G
Stephen Curry
Golden State Warriors
16
–
–
Eastern Conference
Pos.
Player
Team
First round
Final round
Tiebreaker
G
Joe Johnson
Brooklyn Nets
11
–
–
G
Arron Afflalo
Orlando Magic
15
–
–
G
Bradley Beal
Washington Wizards
21
19
18
G
Kyrie Irving
Cleveland Cavaliers
17
–
–
When All-Star Saturday was all said and done, both the East and the West had split 2 events each, and both donated a total of $250,000 to respective charities.